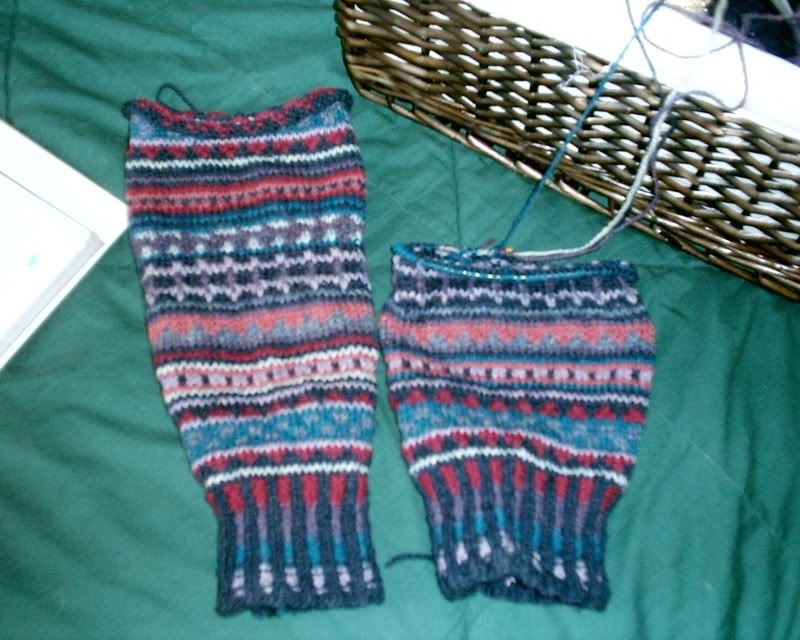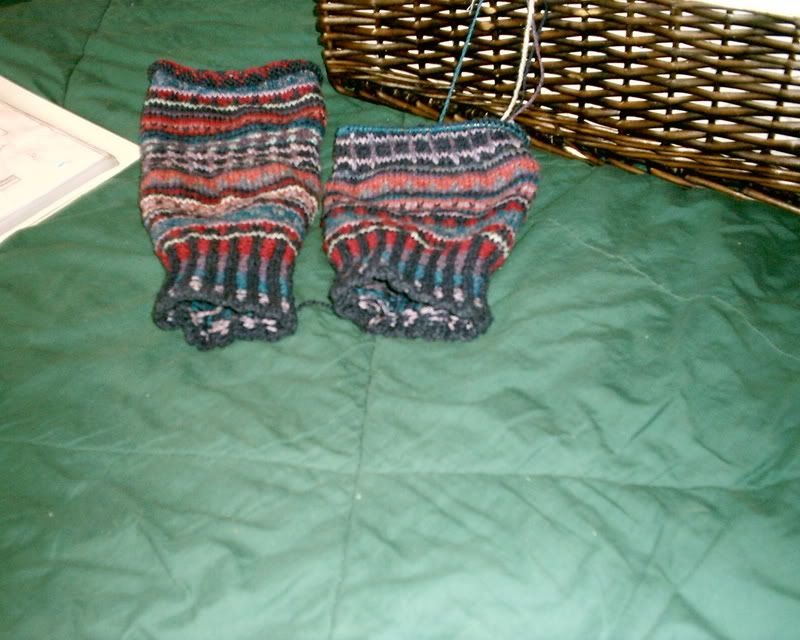 Today I aquired my first Elizabeth Zimmermann book
'Knitting Around'
Where oh where have I been that it took me this long to actually get a Zimmermann???? What a charming read, what fantastic patterns! What simple, elegant and yet sturdy logic of knitting fantasticalness! *swoon* I don't believe I have a large enough ready to use collection of positive adjectives to accurately describe how tickled I am. I've heard her name bantered about, but I really had no idea. Good stuff.
An lets not forget Dearest Himself who gave me the cash to go to the yarn store tho I have more than enough projects on the needles and a yarn stash of modest proprtions that logically could keep me happily in knits for the KFYS2007. I followed the knit from your stash rules and only purchased books so I'm still good ;) heh heh heh
I also scored 'Favorite socks 25 timeless designs by Interweave Press'. I think Jessie was being prophetic when she asked if I ever bought solid color sock yarn....*sigh*
Designs are fantastic, but it would get abit crazy and nearly self defeating when you only have self striping sock yarns.....ah well. I am going to be lifting a few of the cast on funky edges and use them for the cuffs on the sweaters I'm making for the kiddos *smug hopeful grin*
My Cardigan is plugging joyfully along. Yesterday I spent the afternoon over at Andrew and Sarahs house further proving I cannot knit, talk ,chase kids and follow a color chart at the same time. Can anyone see my HUGE flipping flaw? My gauge looks off, but its not. I cast on too many at the start *sigh* I am 12 over. I don't care, I'm not frogging LOL. I'm decreasing every 4 rows. Ultimately it should produce one arm with slightly more give in the elbow than the other.
Himself stared at it for a long time and pronounced it hardly noticable. Did I mention how well he is coming along? He actually said "You know, I wonder if it was too large at the cast on...." ;-O He is totally paying attention, and I do believe he will be knitting manly men type stuff in the not too distant future YeeeeeeeHaw! Nothing beats having a hubby with an intrest in the same activities eh? Of course this may mean stash lifting...........................oh dear! Better look into yarn lock up storage ;-D