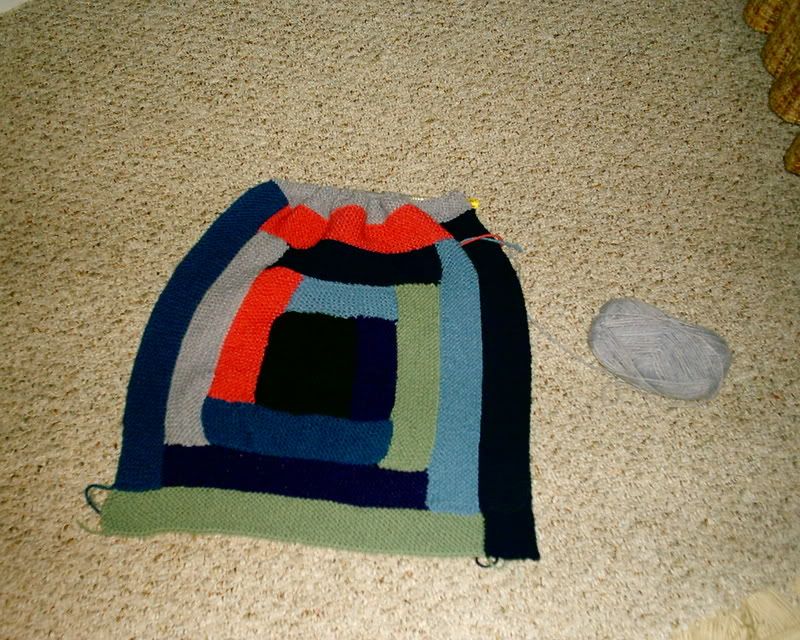 I only regret not buying 2 skiens of each color instead of one each.
Is so soft, it warms my lap as I knit its neat rows. Its the best mindless knitting EVER and I am just tickled with its ability to remain interesting even in its no-brain-required-ness.
I went and got some cotton in assorted colors for kitchen towels and dish rags. Yeeeehaw. Can we say "getting a head start on next Christmas"?????
oh yus we can.
In-Laws will naturally get yellow and blue because they are obsessed with Sweden and anything remotely swedish "ish". It helpful nice that they both knit, so will not see it as a cheap gift, but a gift of time. You know what I mean? I love to knit, but knitting for people who have no idea how much effort goes into an item, well thats just setting yourself up for heartbreak when they toss it aside like some 12$ Wal-mart souless piece-o-sumpin'.
I've got some great colors for my mom, but she is difficult at best about these kinda things. I might make Dad a couple napkin things with a skull and crossbones on them. He'll get a kick out of having a poison symbol associated with food.
Sister and BIL, I need to call and get her color scheme for their kitchen, Hmmmmmmm
And then there are all the new babies in the family. I want to make Tuck and Tan a baby kimono, they are so soft and wonderfully easy to put on and off. I still owe Lil West something, and now it needs to be something "big brotherish". He seems like a bog Jacket kinda fellah, and thats good year round. His new baby probably has piles of clothes already, so creativity hmmmmmmmmm Kimono for new baby? Yeah, I think so.
Then there is my huge project (Eep). Cousins kids, L, C, H and L. Something hand made for each of them. Especially the older two. They want to feel special, and included so badly. Maybe knowing someone wanted to make something that would not be a hand me down JUST for each of them, no one else, would be a loving thing to do. But what?
Their own blankets. That just came to me. I can knit their names into their blanket so no one can take it from them, and let them know that the whole time it was being made, it was being made JUST for them.
Mental note*make machine washable*