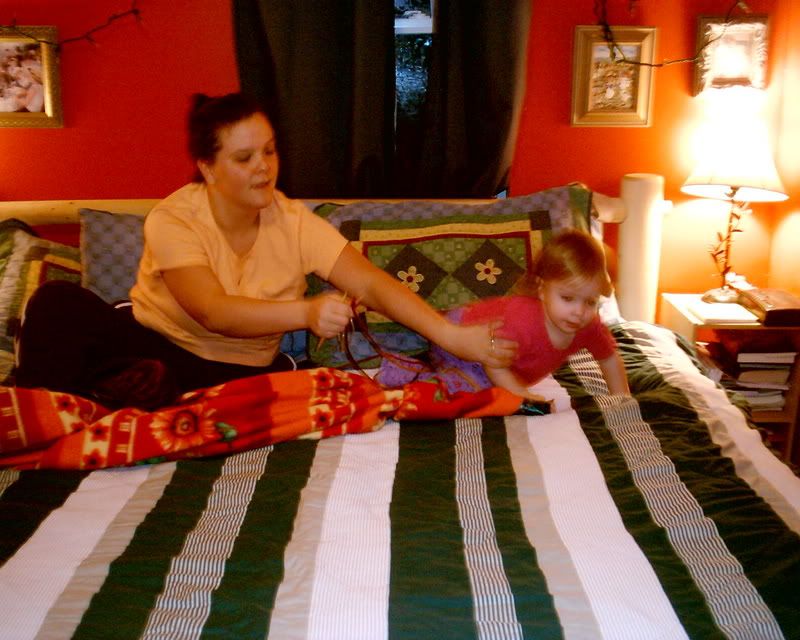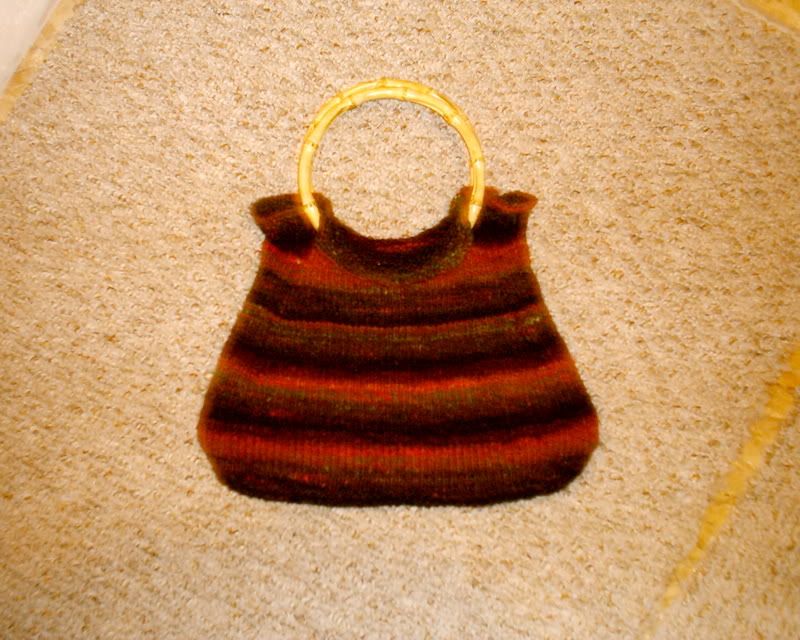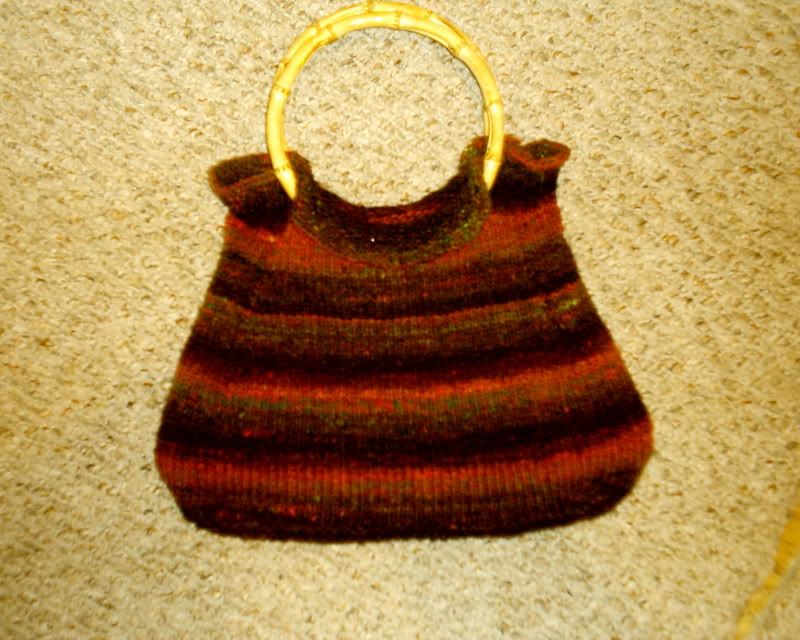 Oh yeah, thats right, I am just about finished with that tote, my very first knitting exchange project. Its just about finished, a wee bit of hand felting and it will be on its way, bamboo handles and all. Those handles rock by the way. Whoot!
I'm completely loving the shape it took, well rounded, like the body of a guitar or tulip. It has an almost spooky amount of interior room, easily big enough for any project one would want to tote about with on a given day. The pattern was a complete joy to make up.It started with Noro Krayon and size 10 needles. CO 64 and knit 17 garter stitch ridges(or 34 rows, however you happen to count. I put in 4 stitch markers to note where the sides were at the bottom. Picked up all around (162 sts) and knit for 6 inches of material.
To start the body shape, I popped in a purl on the inside of each stitch marker every row. Knitting 2 together on the outside of the marker every 4 rows. It slowly develops its hip shape, gracefully moving in, but with that purl edge keeping it looking clean.
Knit up about 4 more inches of material.
Now, iff'n I was to do this bag again, which is completely likely, I would begin ribbing on the edges only. By edges I mean the sides of the purse, not the front or back, I realize I can be confusing. Bear with me, its the first pattern I've ever tried to write out for others to try to read. ;-)
Knit up another 3 inches only this time ribbing all the way around. I prefer K2P2, but whatever floats your boat.
Now, as you are closing in on the size you want, knit one round into the front and back of every single stitch, yes ALL the way around. This adds that wavy "I'm a flower" effect. CO in preferred method.
I lined up the bottom 1/3rd of the round handles with those purl stitch edges and sewed them in.
Have I mentioned I absolutely loved making this bag. It was a total and complete Mary Poppins kinda happy feeling to knit up. Don't cha just love knit projects like that? My lil butternut was helping me with the sewing up part, a knitter in the making......
Now the only REAL question left is, "What goodies do I hide inside?"
I was thinking of taking my beads and making some stitch markers, but the little people in my house are overly helpful in that area and make things that only gramma would use, not a total stranger LOL. On the upside I've been spying on my victims blog and see she is into meditation, so I have a fantastic book by Ravi Zaccharias I'm thinking about sending. Chocolate is a given, maybe some tea.........